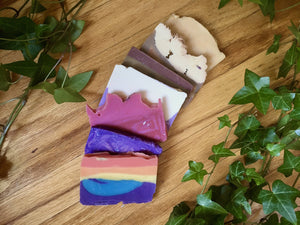 Can't decide which soap to give a go? Well, never fear! The Sampler Pack is here!

This little sampler includes 4 mini artisan soaps! In addition to being awesome little variety packs, they also make great gifts for guests AND serve very well as hand soaps! All scents in a set are chosen at random, as it all depends on what we have on tap that month!
This month's fragrances are:
Proud
Love Struck
Bottle o' Bubbly
Ol' Saint Nick
Winter Wonderland
Sugar Plum Fairy
Gingy & Mongo
Peppermint Hot Chocolate
Fireside
Cinnamon Apple Cider
Wine Drunk
Sweet Vanilla Chai
Lavender Fields
Honey Bee
Pumpkin Pie Milkshake
BRAAAINS!!!
Heavensent
Hellbound
Total Weight:
Approx. 3-4oz.