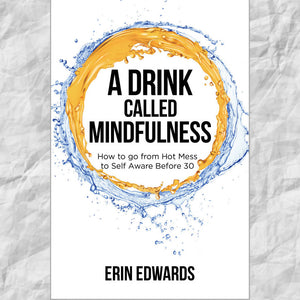 The newest LGBTQ+ guide to a better you. A quick and easy read, this book has anecdotes and exercises to help you transform from hot mess to self-awareness.
Please support the local author.
See product description below:
Ooze passionate, calm potential out of every pore
Tired of doing the same unhealthy routine every day? Been grieving for far too long? Are you open to replacing bad habits using invigorating mindfulness techniques? 
Just a few daily gulpfuls of mindfulness is all it takes to help walk the talk to the beat of your own drum. Life hurls problems at you day in and day out; most of you spend much of your energy avoiding them using distractions, notably, alcohol.
This raw and uncovered book takes the reader down an experiential road of simple mindful practices, combined with incredible real-life accounts of substance abuse, coming out of the closet, and losing a parent--challenging times in the life of a millennial. 
You have changed, consciously and unconsciously, based on the events of your life. You have had a loved one die of cancer; or worse yet, a parent die of cancer. You have come out of the closet, again and again. You have found yourself, after several attempts, once again under the influence of alcohol, with the smell of whisky and vomit on your breath. You've navigated it all.
And yet you still feel ungrounded, shakeable, weak. You feel blown around in a flurry of external obstacles that you've created to remind you of your internal problems. Uncontrolled.
A Drink Called Mindfulness challenges everything you've ever been told about recovery, grieving, resilience and mental health. It is the go-to guide for establishing self-awareness in an overwhelming world, all before you turn 30. 
A Drink Called Mindfulness gives you an evidence-informed foundation for a mindfulness practice through:
10+ of the simplest practices to get you in tune with your body and mind

Tools to greater self-compassion to share your caring, vivacious self with the world.

Access to the passionate fire burning within you, accessible whenever you need it, wherever life takes you.

Strength to easily handle the curveballs life throws your way and to communicate more effectively with those on your team.

First-hand accounts of how using foolproof mindfulness practices can help you through tough times (guiding you every step of the way).
Follow the advice in this book and pour yourself an overflowing cup of emotional health. Mindfulness not only increases self-confidence and well-being, it also helps you develop positive relationships with substances you've abused, loved ones you've lost, and the person that you can be. Incorporating these practices into your daily routine for just three weeks can transform you from zombie to zen. Of course, you'll notice a difference from day one.
What's stopping you from tapping into age-old wisdom? You deserve to live your truth. Finding your truth is passionately finding where you want to make a difference in the world.
Do you want to be your authentic self, unhindered by outside influences? Why keep putting off your purpose? This book offers you a way to become one of those people whose passion and potential oozes out of every pore, who emanates calm, persistent success.
You can be a heart-centered, empowered, enlightened human being whose contribution to humanity will impact the 21st century. 
What's stopping you?
Scroll to the top and click the "buy now" button.