Flamingo Market Virtual Gift Guide 2021 Sponsorship Package
Flamingo Market Virtual Gift Guide 2021
Sponsorship Package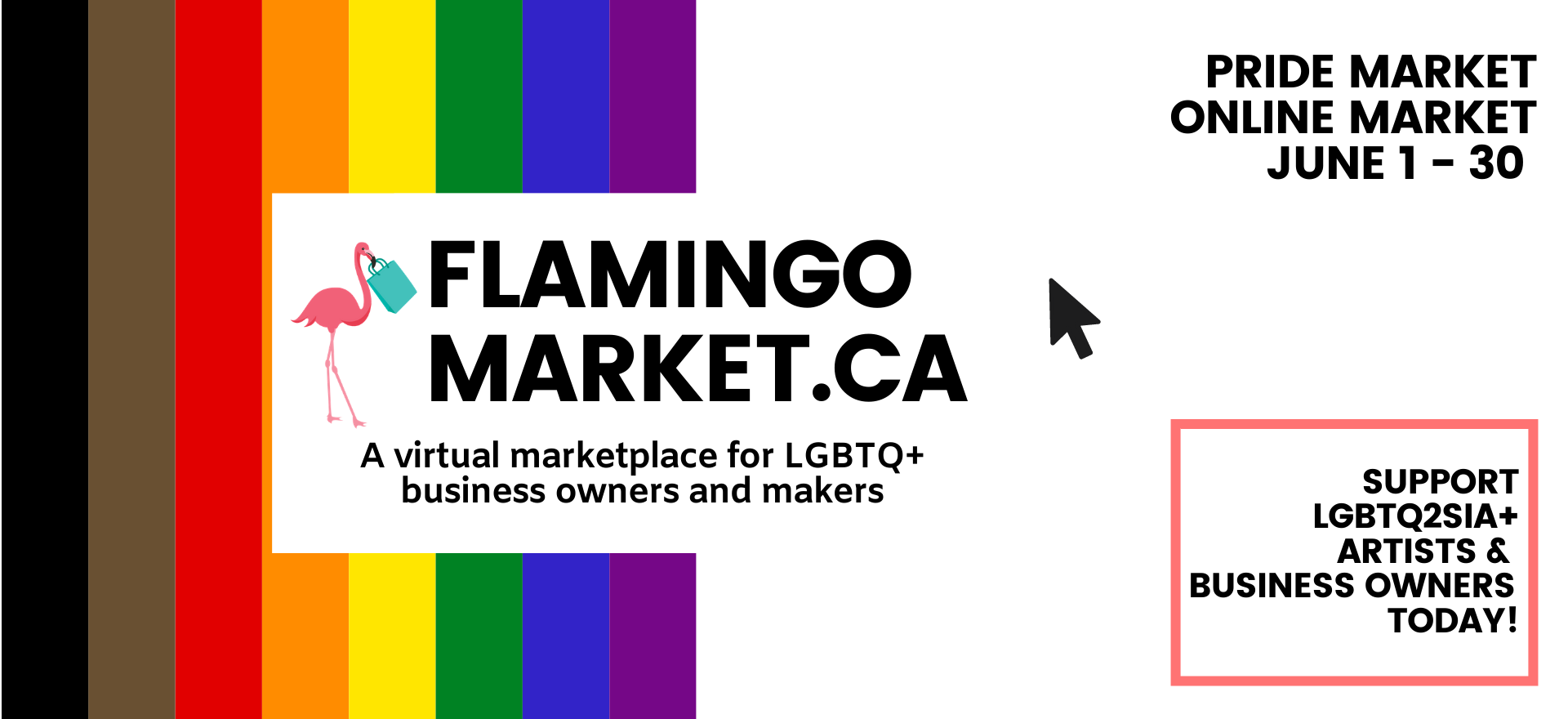 Pride month is just around the corner, and now is the perfect timing for businesses to express their allyship to the LGBTQ+ community. We'd like to introduce ourselves, and some great ways you can support our community, and nearly 300 2SLGBTQ+ artists, small businesses and nonprofits!

Who is Flamingo Market? Flamingo Market was originally founded by Jack Shinton and Sica Saccone as Toronto's only independent Bi-Monthly market for LGBTQ2SIA+ Artists, Makers, Businesses and Nonprofits. When COVID-19 outbreak happened, our community was hit hard with in-person events being cancelled. So many of our communities artists, gig workers and small businesses were suddenly without work - we knew we couldn't give up, and that we had to pivot to a virtual space. Flamingo Market created an online international multi-vendor marketplace, truly made by and for the community! We launched our online presence in 2020 - giving our vendors access to a fully functional online shop - and access to three LGBTQ2SIA+ owned brick & mortar retail spaces! We offer flexible PWYC fees for our vendors who are facing financial barriers. We are proud to say, we've had over 300+ vendors in our first year online!
Check us out: WWW.FLAMINGOMARKET.LGBT
We feature, promote and foster the diverse small business and artisan talents our LGBTQ2SIA+ community has to offer from all around the world! We connect our vendors with paid opportunities like having their merchandise in retail spaces: Glad Day Bookshop, BiStitchual and The QUILTBAG; paid workshops and we even curate company swag bags with partners such as: Egale, Fido and Pride Toronto! We won 1st place in the Toronto Star in 2020 for Best Local Flea Market, and Silver in NOW Magazine in 2020 for Best Online-Only Retailer. We have been seen all throughout the media OutTV, Huffington Post and She Does The City!
Now - here's where you can help LGBTQ+ businesses thrive! We've created a Flamingo Market Virtual Shopping Guide featuring 50+ of our vendors to support during Pride month to promote them and we want to really get the word out for our Pride Guide - launching June 1st! Check out our previous gift guides here:Flamingo Market Holigay Gift Guide / Flamingo Market Sweetheart Gift Guide
Our previous Shopping Guides have been seen 7,000 times with 18,000 impressions spread wide across Canada, the US and the UK - and we are expecting those numbers to grow significantly for our Pride Guide! We're well known over socials too, check us out on: Instagram, Facebook, Twitter
Would you like to sponsor our Flamingo Market Virtual Shopping Guide? Check out what's included for our sponsors in our Sponsorships package!
Would you like to help LGBTQ+ creatives thrive this Pride month? Send us an e-mail today:info@flamingomarketto.com
Please don't hesitate to reach out with any questions! We hope you'll join us this Pride season.
Thank you and warm regards,
Jack Shinton and Sica Saccone
Founders of Flamingo Market