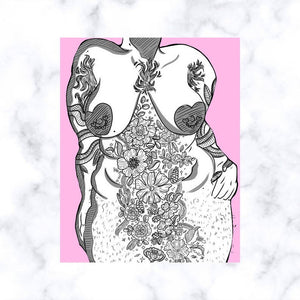 A series of gorgeous plus size nudes and flowers - 8x11 inches, printed of good quality cardstock, signed by the artist and includes personalized thank you note.

This series was done to display love for bigger bodies, for bodies that don't get as much love as they should, for bodies like mine. It's okay to be big, being big is beautiful and your folds and stretch marks and body hair are totally valid. You are allowed to exist as you are. That's what these pieces are about, self love and flower :)

Perfect for colouring or decorating a monochromatic theme!