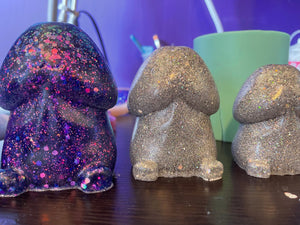 This listing is for a custom Dicklet order for Amber. This order should ship within 2-3 weeks.
Since these are preorders, you get to customize what color(s) your Dicklet will be. I have the full rainbow available, so let me know! (Also let me know whether you want glitter or not).
Think of it like build-a-bear, but for a cute Dicklet. 
These dicklets are not made of body-safe material and should not be used in your, or anyone else's, body under any circumstances. I cannot stress this enough, DO NOT THE DICKLET. 
Dicklets are available in the following sizes:
1.5 in/3.8 cm - weighs roughly 1 oz/0.02 kg. Makes a great desk sitting companion, a stim friend, or a keychain if you'd like it pierced.
3 in/7.82 cm - Weighs roughly 8 oz/0.22 kg. Great for a mantle piece, room decor, just a cute little friend to keep around. 
3.5 in/8.89 cm - Weighs roughly 10 oz/0.28 kg. Now we're talking. This size can water your plants, impress your friends, and moisturize your skin. (It can't do any of that stuff, but it can be a nice paperweight or bookend)
4 in/10.16 cm - Weighs roughly 14 oz/0.39 kg. The biggest chonk I offer…for now. I don't even know what to suggest for this size, take it out for a nice dinner and tell it all your secrets.