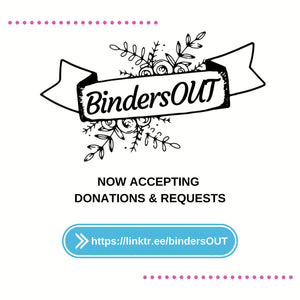 Our current Fundraising Goals:
Goal #1: Purchase 20 binders ($1100)
Goal #2: Raise funds to launch and sustain a special portion of our program to provide FREE Binders to BIPOC Trans Folx!
Goal: Raise enough funds to create a mailing program to reach folx outside Ontario - ACCOMPLISHED!
We're now mailing Binders across Canada, the USA, and beyond!

Where do your donations go?
100% of the funds goes back into our program. With the funds raised through our PWYC program and from monetary donations from community members and allies, we purchase brand new binders which are then made available in our PWYC binder program.
These funds also help sustain our mailing program, allowing us to expand BindersOUT to help Trans Folx across Canada, the USA, and beyond!

Do you have a binder to donate to our program?
If you have a binder you would like to donate, please fill out our Binders Donation Form  and we will contact you to set-up a contactless pickup or provide mailing details!
You can also reach out to us at bindersout@gmail.com for mailing/donation information
***********************
Who we are:
BindersOUT is a grassroots, volunteer-run program formed in 2016 to give trans masculine people and other trans folx access to affordable (and safe!) chest binders. We collect pre-loved chest binders from members of the community who no longer need them and make them available to individuals who otherwise might not be able to access them.

People may not have access to binders for various reasons including but not limited to:
       - Financial barriers        
       - Not out to friends and family
       - Parents/ guardians are transphobic            
       - Homeless
       - No permanent address                          
       - No credit card
       - Not sure how or where to get one

What is a "binder"?
A binder or chest binder is a clothing garment which typically looks like a sports bra or tank top. The purpose of a binder is to compress chest tissue, which results in giving the wearer a more masculine or androgynous appearing chest. Binders are most typically worn by trans-masculine and non-binary individuals.
Our story:
Imagine you're  a 15 year old trans boy, and you don't feel safe asking your parents to buy you a binder. Your parents are actively transphobic and ignore all aspects of your identity, forcing you to wear stereotypical feminine clothing and constantly referring to you by your birth name and She/ Her pronouns.
 This can be an incredibly distressing and traumatic experience which in time could lead to internalized transphobia, depression, body hate and shame, self-harm, and even suicide. Many in need of binders are underage, do not have a credit card , and can't order a binder online without their parents finding out.
 
Our program was created out of a noticeable need for safe and accessible chest binding options. Almost all chest binding companies are located in the United Stated, Europe, or Asia making accessing binders both difficult and expensive.
We believe no one should be without a binder simply because they can't afford it or feel trapped in a certain situation. Binders can save an individual's life, they can provide confidence, freedom, gender confirmation, and the ability to finally express ones' gender in a way that is safe. 


How you can support us:
Share our GoFundME campaign
Donate via Paypal
Share our FaceBook, Instagram , and Twitter 
Donate a Binder you no longer need
Make a monetary donation
$10=  Shipping fees to send 3 binders within Canada, or 1 binder to the USA (without tracking)
$20 = half a binder                  $50 = one binder                     $100 = Two binders

 
Why are binders so important? Couldn't anything tight around the chest serve the same function?
Having a proper fitting, specially designed binder is essential because:
·  Improper fitting binders or binding with unsafe material can endanger a person's physical health. However when forced to choose between crushing gender dysphasia and "potential" health complications many trans folx resort to wearing layers of sports bras, duck tape, ace bandage, layers upon layers of clothing, among other various methods.
·  Major health concerns with choosing these methods are difficulty breathing, damaging the rib cage, overheating from too many layers.
·  A proper binder is made from breathable material that is both light and strong. An individual should be able to breath and move freely without little to no discomfort.
 

Where do we get our binders?
We receive donated binders from members of the trans community who no longer need them (often as a result of receiving top surgery). These binders are often from different companies and come in numerous different sizes and styles. The majority of the binder we receive are from a company called GC2B.  
 
With money from our PWYC binder program we purchase brand new binders from GC2B.
GC2B is an American based business created by trans folx for trans folx.
 
Connect with us:
FaceBook
Instagram 
Twitter