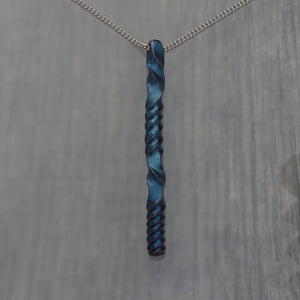 This stainless steel pendant is made from a longer, single piece of material that is torch twisted to give each one it's own fluidity within the waves. This piece is 74mm long (the diameter of a soup can is 76mm) and comes with a 16" stainless steel chain. The pendant owes it's deep, rich blue colour to the heat of the torch. I enjoy this process and find it therapeutic and calming in these uncertain times.
Skipping Stone is a Not-For-Profit Organization based out of Calgary, Alberta to support trans and gender diverse youth. I will be donating 10% of the sales from my Fluidity Collection to this very important group. Thank you for your support.
If you happen to be in the Calgary area, I am happy to make drop off arrangements to save on shipping costs.
I also do custom work :) You can check out my website for more examples of this: www.merkurymetals.com