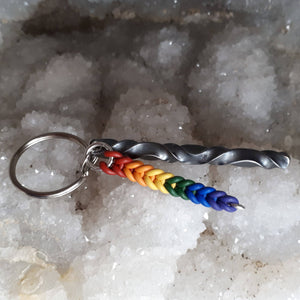 Pride in Calgary is held this year from August 28th to September 6th with events being adapted and/or developed to be held online during these times of extra caution regarding public safety. There are still many ways we can show our Pride not only now, but the rest of the year as well. It is my hope that when making Pride accessories, that they will be pieces that the wearer will enjoy wearing all year round. This Fluidity Pride Key Chain is made from stainless steel and rubber for the rainbow rings, finished off with sterling silver rings.
Skipping Stone is a Not-For-Profit Organization based out of Calgary, Alberta to support trans and gender diverse youth. I will be donating 10% of the sales from my Fluidity Collection to this very important group. Thank you for your support.
If you happen to be in the Calgary area, I am happy to make drop off arrangements to save on shipping costs.
I also do custom work :) You can check out my website for more examples of this: www.merkurymetals.com