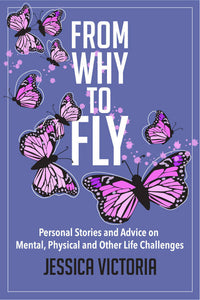 From Why to Fly is a personal account and resource on navigating the waters of mental health, disability, conflict, LGTBQ+ issues, and the struggles faced by those who are coming to terms with all of these situations. This book is a first-person account from 25-year-old author Jessica Victoria, as she bravely shares stories from her life and her journey of discovery toward the woman that she is evolving into today. This book answers all the questions she had growing up. Through her experiences and overcoming dark times, she articulates the strategies she found that helped get her to the place she is today.
Jessica is a graduate of Journalism and has always taken a keen interest in psychology and mental health. Diagnosed with anxiety and depression as a teenager, she has used her experiences and her knowledge to help others. Jessica has lived with a physical disability since she was two and a half; she is unable to walk and has a speech impairment, yet nothing has stopped her from doing anything that she puts her mind to.
This book is a road map for those who struggle with understanding the curve balls that life has thrown their way. Jessica details her insight through personal anecdotes and numerous resources that have enabled her to embrace the uniqueness of her own voice. This book was written to empower those who find themselves in similar circumstances, and to serve as a support tool for those whose loved ones need guidance.