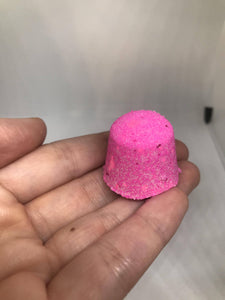 A baby bath bomb scented just like it's full sized sibling Queen. 
This floral and fruity bath bomb will transport you to a place where you are the one in charge.
100% Vegan
Lil Queen is final sale.
Ingredients: 
Baking Soda, Corn Starch, Citric Acid, Polysorbate 80, Water, Almond Oil, Fragrance, Koalin Clay, Colour.
*products from Canadian suppliers
Disclaimer: Not made in an allergen free environment