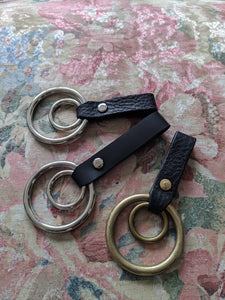 A versatile belt loop with two solid rings. A strong snap makes attaching the belt loop easy.  2" and 1" inner diameter rings.
I wanted this piece to be have a simple elegance while also being adaptable to the needs of the moment. I've always been a fan of clipping things onto other things. The crescent moon invokes strong occult vibes, and the two rings makes it easy to stack and sort your things.
SIZING: This can be made to your custom sizing! I will need 1 measurement:
1) Belt or strap width: Measure the width of the intended belt or strap.
If you need any help with sizing, I'm always happy to help out!
ALLERGENS: Contains nickel