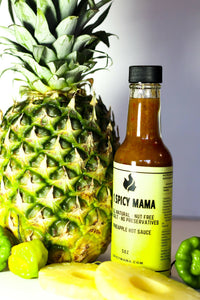 A sweet and spicy hot sauce made with fresh pineapples and scotch bonnet peppers.  This sauce is perfect for chicken, lamb and pork. You can also pair with traditional marinade. All-natural, no preservatives, no sodium, nut free and gluten free  
1 Spicy Mama hot sauces are created with quality all-natural ingredients no added sodium. Our sauces are made with our own hand picked peppers so each batch is unique. No chemical preservatives are ever used and each jar is sealed for freshness. Spicy Mama uses only high quality ingredients and care in producing our sauces and you can taste the difference on your food. Pair your sauce with any meal, tapas or snacks add it to a cooked dish or an a table for guest. If you like hot sauce with actual flavour not just heat you will love 1 Spicy Mama. 
Satisfaction Guaranteed
If you are not 100% satisfied with any of our products after using for any amount of time just return unfinished bottle and we will issue a full refund.
That is our guarantee that you will love 1 Spicy Mama.