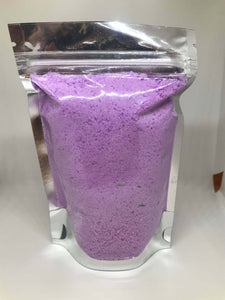 Sleep as well as a baby with this lavender fairy dust.
Pour as little or or as fairy dust into the bath as you want and watch it fizz away.
Size: 160 grams
100% Vegan 
Ingredients: 
Baking Soda*, Corn Starch*, Citric Acid*, Polysorbate 80*, Water, Almond Oil*, Lavender Essential Oil*, Koalin Clay*, Colour.
*products from Canadian suppliers
Disclaimer: Not made in an allergen free environment