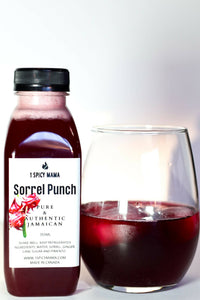 Sorrel is the most popular Jamaican holiday drink during the Christmas and New Year season. The hibiscus flowers, known as sorrel in Jamaica, are harvested in early October to December. The dried flowers are used to make this natural and refreshing traditional drink.  The drink has many health benefits including, controlling high cholesterol levels, managing high blood pressure, enhancing the functions of the liver and a high source of Vitamin C. It has now become a year-round drink in Jamaica and the Caribbean. Our signature Sorrel is made in-house and a favorite at foodie events, local farmers markets and specialty festivals.  Sorrel is vegan and gluten - free.  
100/% Natural it's DELICIOUSLY refreshing.
Instructions: Serve over lots of Ice. Please Store in the refrigerator. 
Comes with 4 x 355ml bottles